Thirty-nine percent of Texas residents are Latino and over $6 million Texas residents speak Spanish.  Conversely, there is a lack of Spanish-speaking lawyers to serve these Texans.  As a result, Spanish-speaking Texans are not receiving legal representation in a variety of matters.  According to Legal Watch Dallas 2014, Dallas psychologist Edward Rincón and litigation consultant Kevin Karlson, said that nearly a third of the Latinos they interviewed said they would seek legal advice from a nonlawyer friend or family member instead of going to a lawyer. Twelve percent said they would consult a website such as legalzoom.com, and 9 percent said they would visit a legal clinic.  By the same token then, Texas lawyers and law firms are missing out on millions of dollars in potential revenue by not being able to service a significant contingent of Texas residents.
The Spanish for Lawyers website offers a web-based video course to provide Texas lawyers with free access to learn basic Spanish speaking skills they would use in a consultation with a Spanish-Speaking client.  In addition, this website houses the State Bar of Texas and Texas Young Lawyers Association materials and guides that have been translated into Spanish.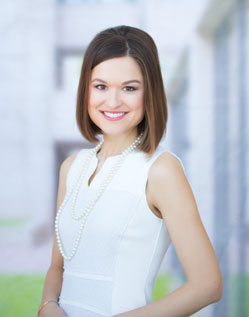 A message from 2017-2018 TYLA President, Baili Rhodes
One of the things that drove me to a career in the law was my desire to find a profession that required me to continue learning. As attorneys, we are always learning something new, whether it is caselaw developments, updated rules or statutes, or trial strategy. We learn in continuing legal education courses, in the courtroom, and in our offices. When I was planning Texas Young Lawyers Association projects for the 2017-2018 year, I found myself looking for an opportunity to help attorneys learn a new skill. When I thought of skills I wish I had, one came quickly to mind—knowledge of the Spanish language. As I have said too many times, the five years of French I took in high school and college are not helping me much in my practice in Texas. My friends are going to tape my mouth shut if I keep using that joke, but it is true. As the demographics of our state change, so do the needs of our profession.
In recognition that I am not the only lawyer in the state who wishes she had some Spanish proficiency, TYLA will develop Spanish for Lawyers. TYLA will work with an instructor to develop curriculum geared toward attorneys. The lessons will be filmed and the videos will be made available through the TYLA website. Spanish for Lawyers will be a beginner level program focused on simple conversation and basic legal terminology. The course is approved for 5.25 hours of Texas MCLE credit which includes .5 hours of Ethics Credit. This site also would not have been possible without Dr. Reynaldo Romero, who dedicated his time and talents to working with TYLA to offer a free and accredited video CLE course, which you can access here.
While I recognize that attorneys are unlikely to become fluent from one short course, my goal is that through this program, they will learn to conduct basic conversations in Spanish with clients and witnesses and develop a level of familiarity with written materials. For those who are already familiar with the language, the course will address legal terms that may not have been taught in traditional Spanish classes. We can all be better practitioners of the law if we continue to develop new skills, and I hope you will join me in learning (or improving) your Spanish. For more information about this and other TYLA projects, please go to tyla.org.  – Baili Rhodes
---
TYLA focuses 100% of its efforts and funding to serving Texas communities to enrich and improve lives. We thank you for visiting this site and for your service to your community. For more information about Spanish for Lawyers resources, TYLA, or how to better serve your local legal community, please contact us here.